Eisenberg v8
Pushing the boundaries of power
Torque
261 lb ft (353 Nm)
Top speed
225 mph + (unfaired)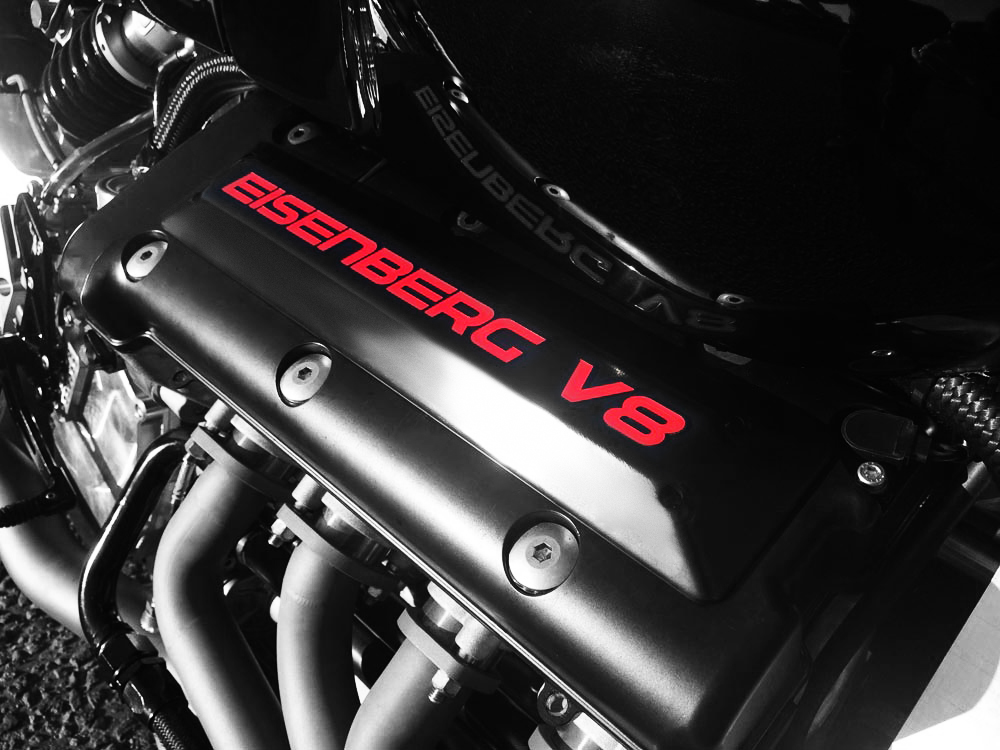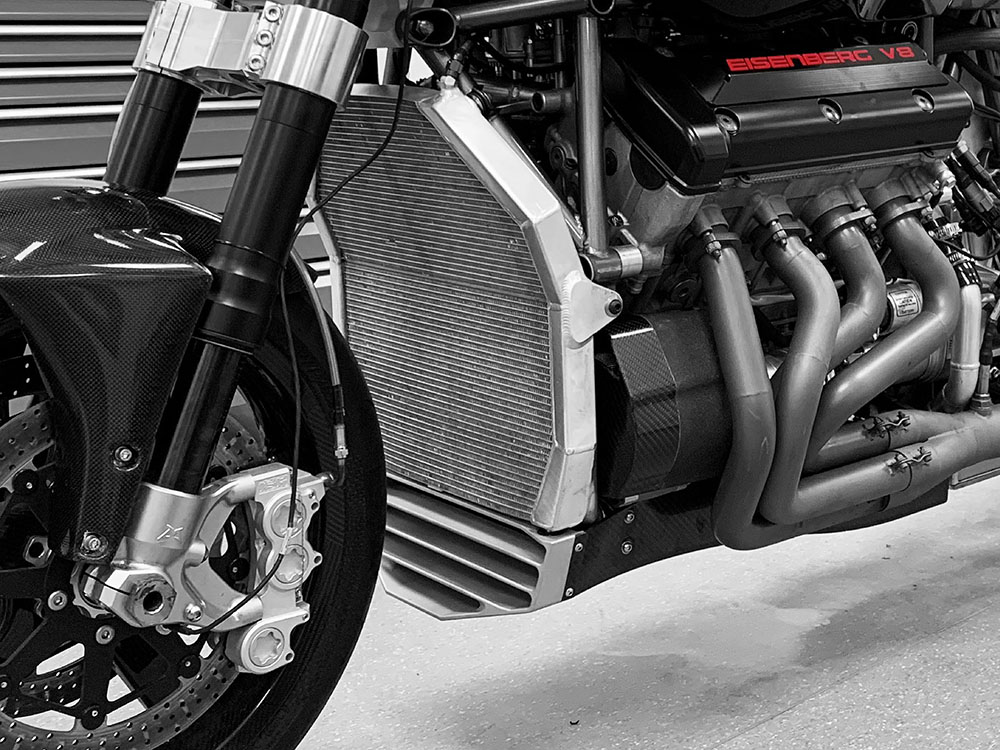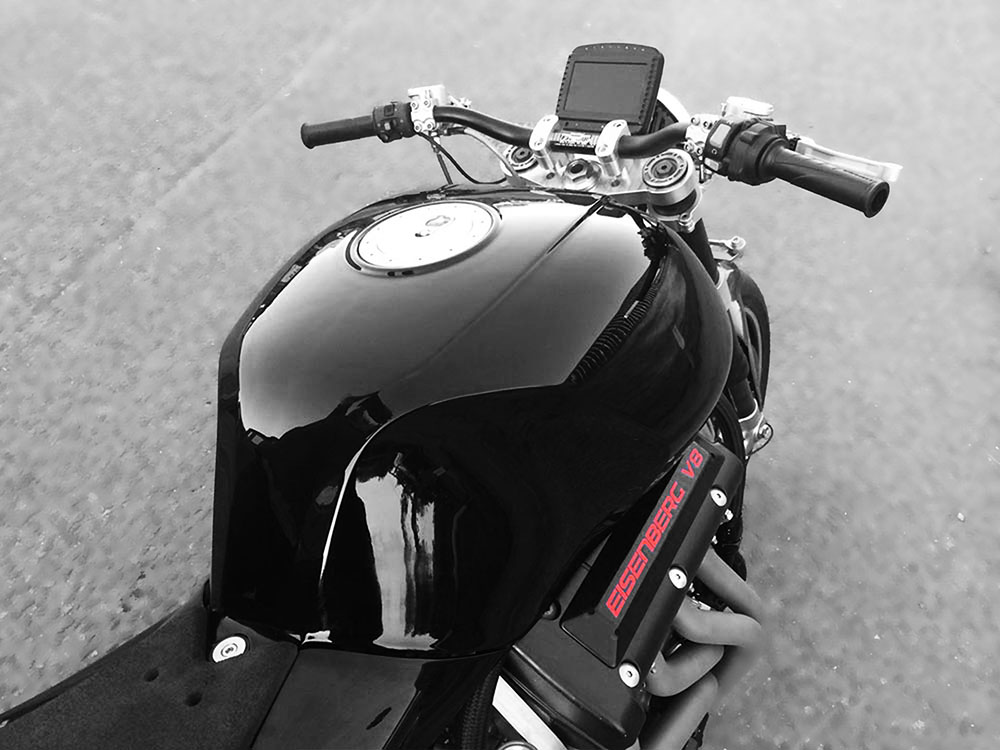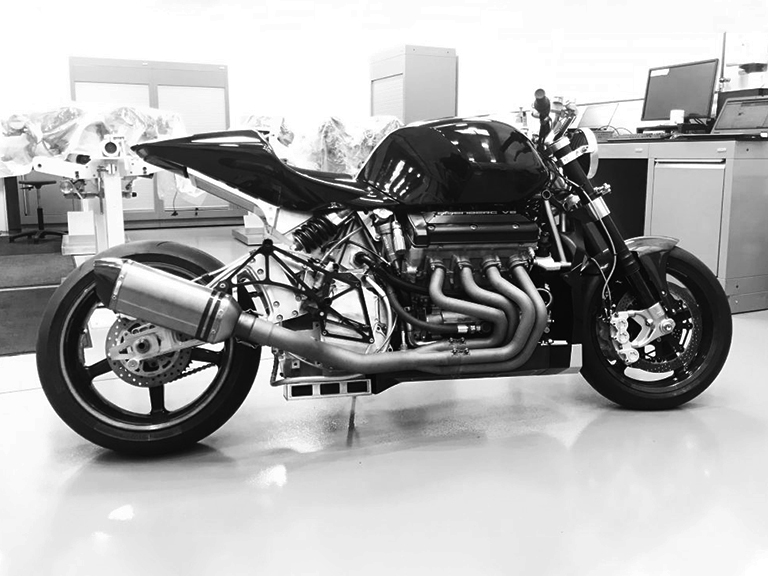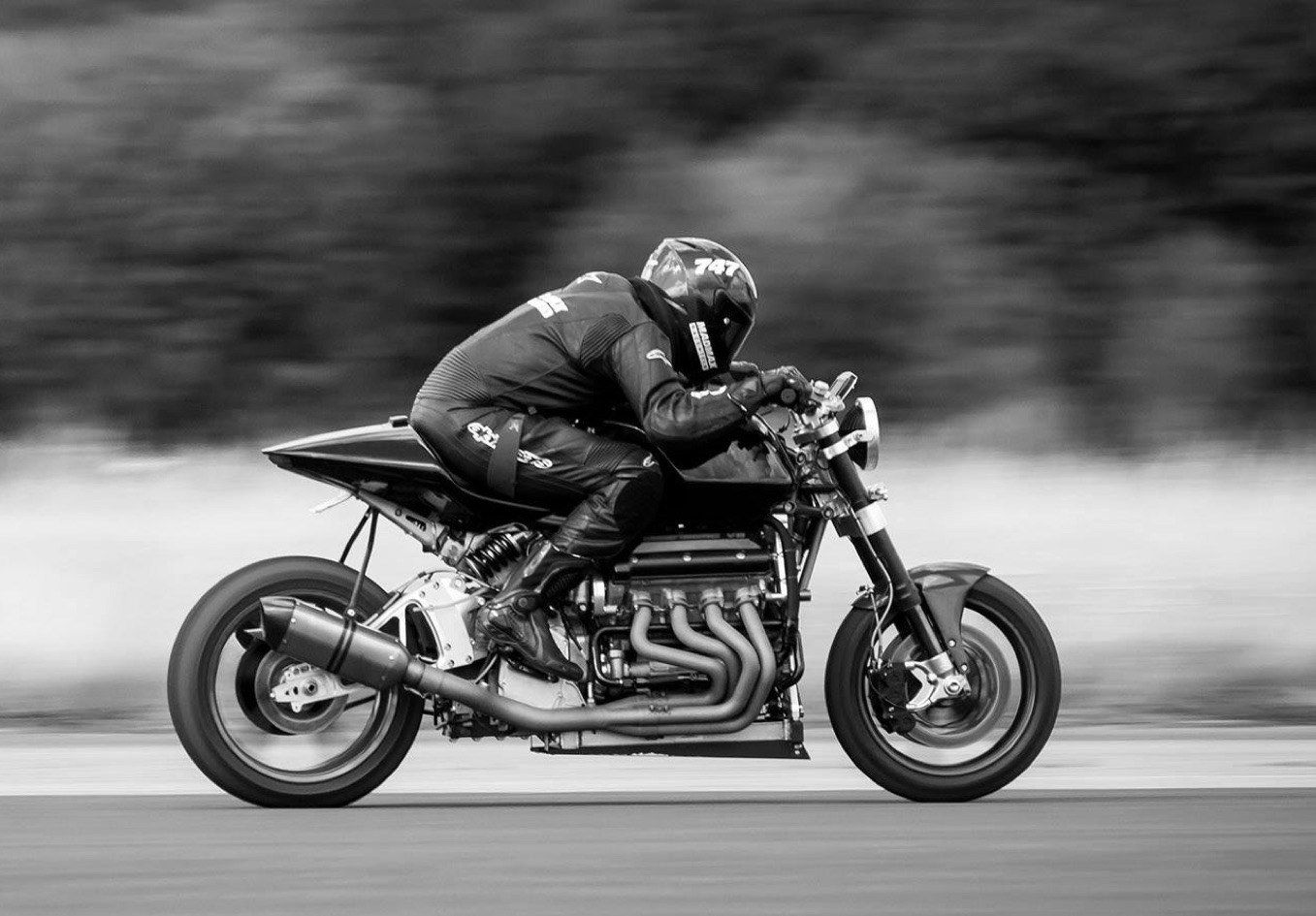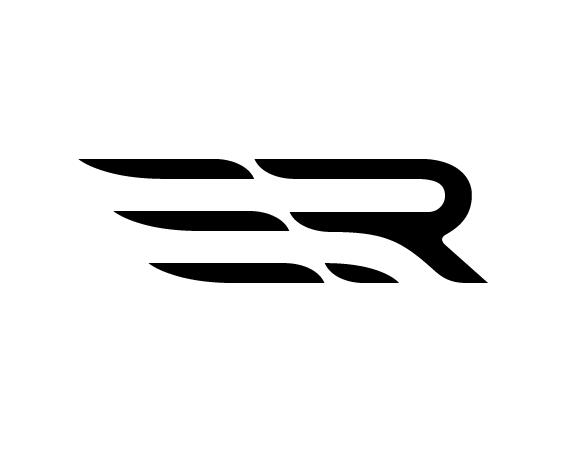 Redefining Speed
Very few engines evoke more feelings of power, sound and emotion than a V8. EISENBERG Racing have pushed the boundaries of power, by creating a compact, high powered, high revving V8 for our limited production motorbike, to create the world's most 'powerful & compact production' V8 motorbike ever made.
Light weight & compact
The V8 engine has been designed to work and fit within a motorbike, as opposed to building a motorbike around a large V8 American muscle car engine, with all the poor handling and weight issues this causes. This bike has been designed without compromise, limitations or budget to create a genuine modern-day muscle bike, with 'normal' weight, length and height. The V8 engine only weighs 88kg and is capable of producing up to 480 hp, when running higher octane race fuel. In 'road' setting, running 98 pump fuel will be an easier to use 400hp.
More HP from less CC
An American car V8 is of a crossplane crankshaft design, which gives the typical 'muscle car V8' burble, due to its uneven exhaust pulses, but they suffer from being much heavier and bulkier by design due to a heavy balance shaft. True lightweight race-bred V8's generally have a flatplane crankshaft, which gives perfectly even exhaust pulses - like a Ferrari V8. Flatplane V8's can rev much higher and easier, often double that of your American V8, meaning more HP from less cc , ie: (torque x rpm)/5252 = HP, and all that without a heavy balance shaft, considerably reducing weight.
Intoxicating to ride.
Flatplane V8's don't burble, they scream, like an F1 car or a Ferrari flatplane V8. The EISENBERG V8 flatplane design is a more freely revving engine that is lighter, smaller and better primary balanced, and intoxicating to ride.
Addicted to speed
It's not easy to find a safe place to reach top speed on a motorbike, but knowing you are riding a bike that can do 225mph in a mile at a private airfield or private road is something very few people ever get to experience, putting you into a very small and exclusive club of extreme speed merchants. Put a fairing on the motorbike and you'll be approaching speeds of near 250mph... and all that from an aspirated engine, with no nitrous, supercharger or turbo, just shed loads of torque and power.
Rare and exclusive
This bike will be strictly limited edition. It's limited numbers and exotic materials will make it an exclusive and expensive bike for the a special few. Orders will only be accepted from riders who have the ability to handle the power, with invites to private top speed days and exclusive events
5 years in the making
The project has been 5 years in the making so far, with lots of challenges encountered along the way, far more than any of the team had thought. Everything on the bike has been designed and made from scratch, including the engine, gearbox, frame and far more to cope with such high levels of power, yet package it within a compact usable motorbike format.
Quaife gearbox
The gearbox is a collaboration with gearbox experts Quaife that took over 2 years of designing and testing (patent pending). It is a small, strong compact gearbox offering 6 speeds, that counteracts the gyroscopic forces of the inline V8 with a reverse spinning clutch. The box is also combined with a rare concentric swingarm design with carefully designed anti-squat geometry to reduce chain tension issues, a system proven on our world record EISENBERG Turbine bike. The gearbox has swappable primary gears for different terminal speeds like a Moto-GP race bike, which importantly prevents changes in the anti-squat geometry. This allows a lighter DRZ-530 chain to be used, as opposed to a far heavier 630 chain that would cause more friction and loss of horsepower.
Jenvy throttle bodies
The bike achieves its amazing power without any supercharger or turbo. It is naturally aspirated and breathes through 8 independent Jenvy throttle bodies (ITB), controlled by a Motec M1 ECU offering full 'ride by wire', thus allowing riders to enjoy the superb power of the bike under different riding and weather conditions, via a simple menu controlled power map. There is the option of a twin carb airbox design, for a smoother riding style.
Extreme speed
Customers can choose between relaxed cruising to extreme speed and acceleration at the 'flick of a button'. Its naturally aspirated high torque engine and fly by wire package make it friendly enough to ride in town, the rain or at top speed events at the weekend.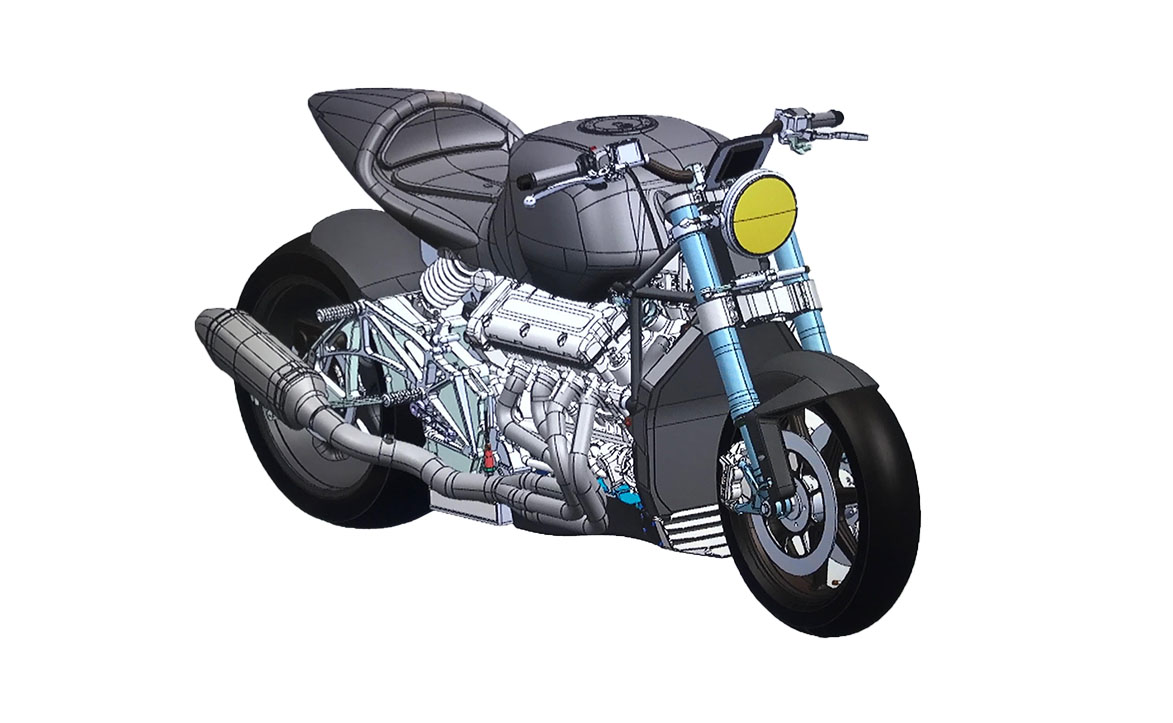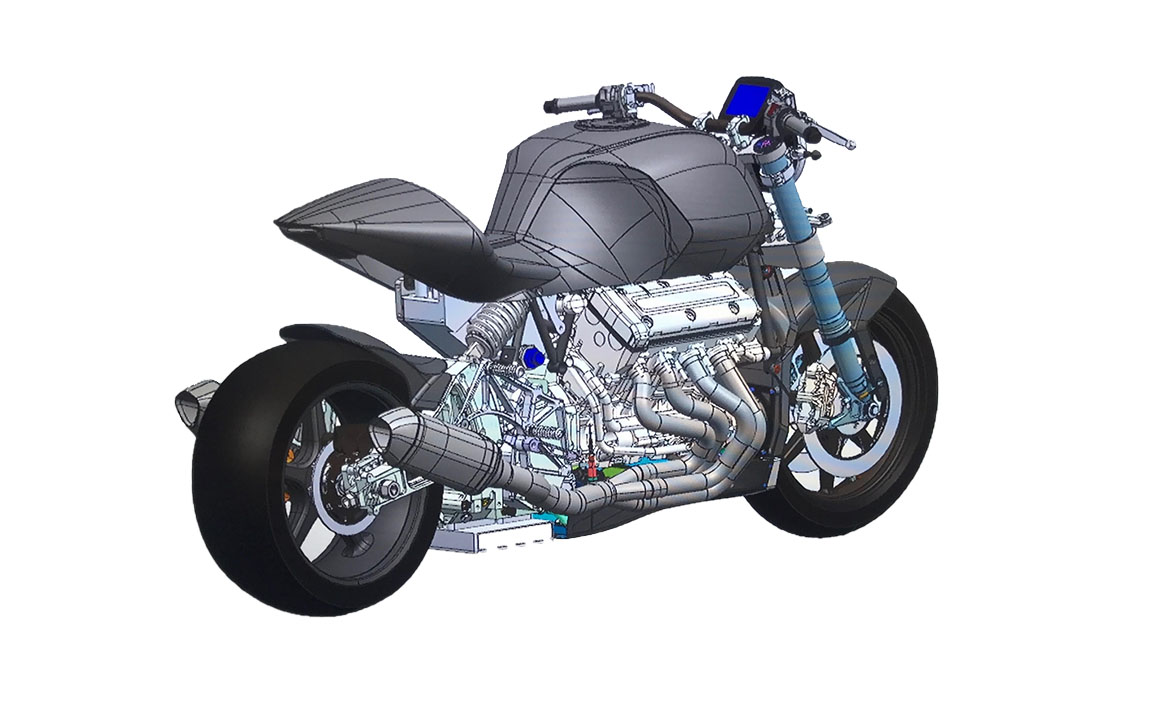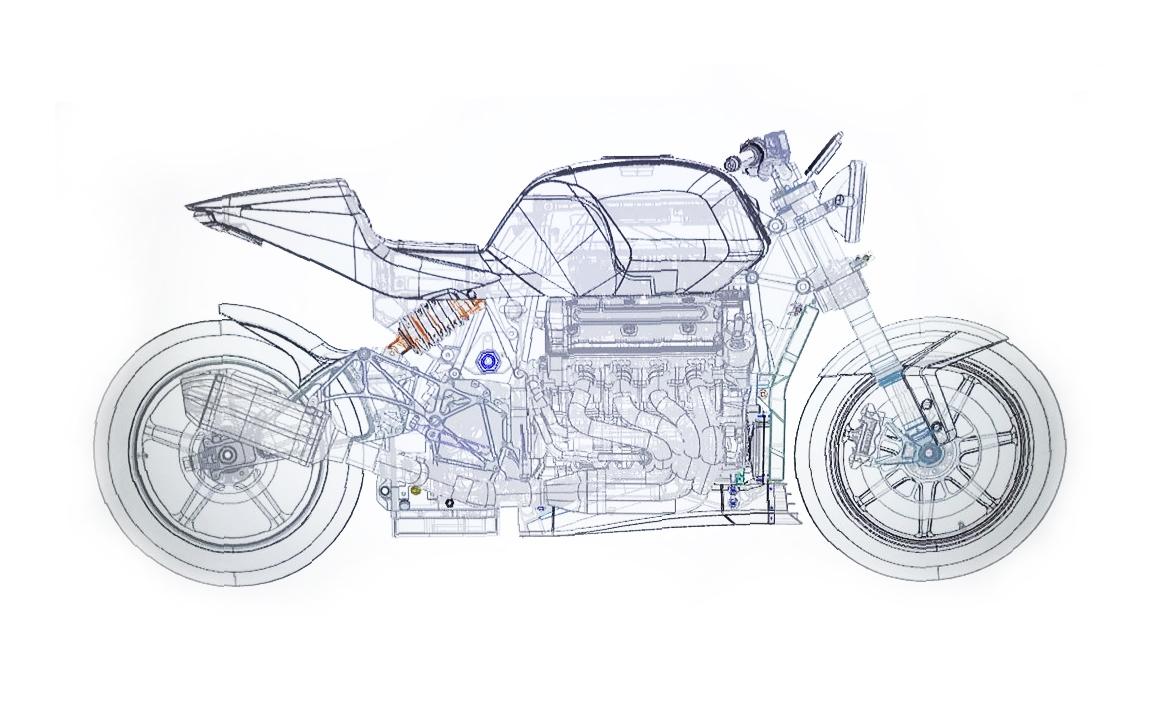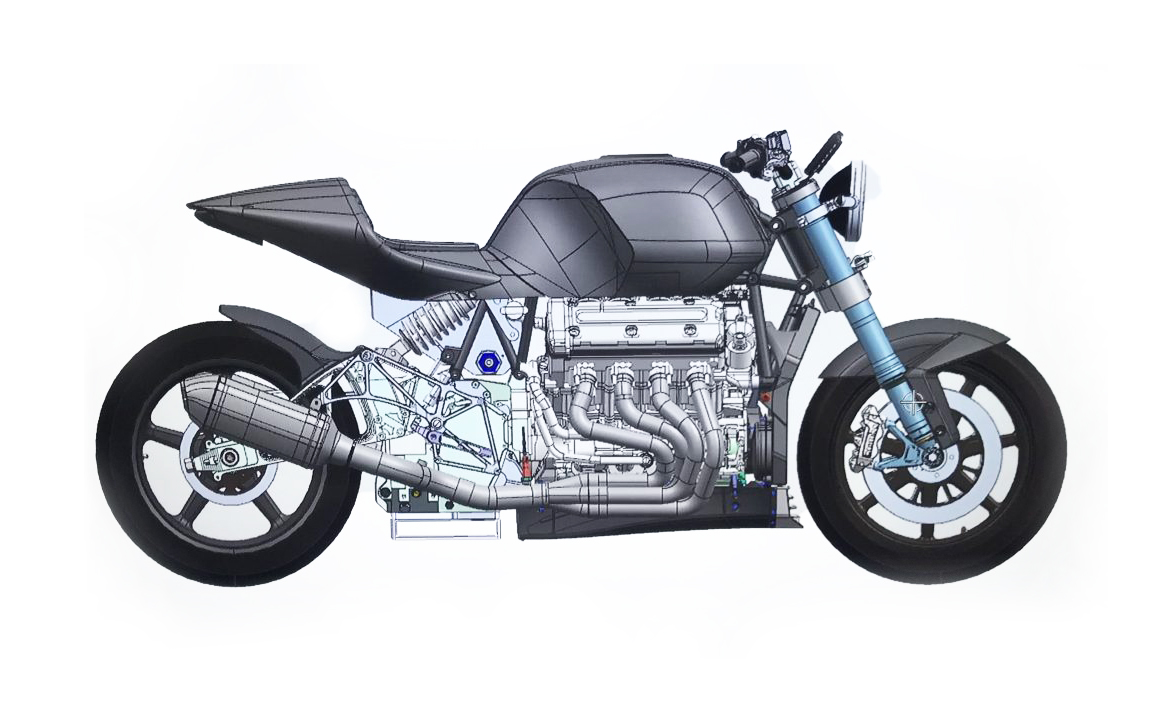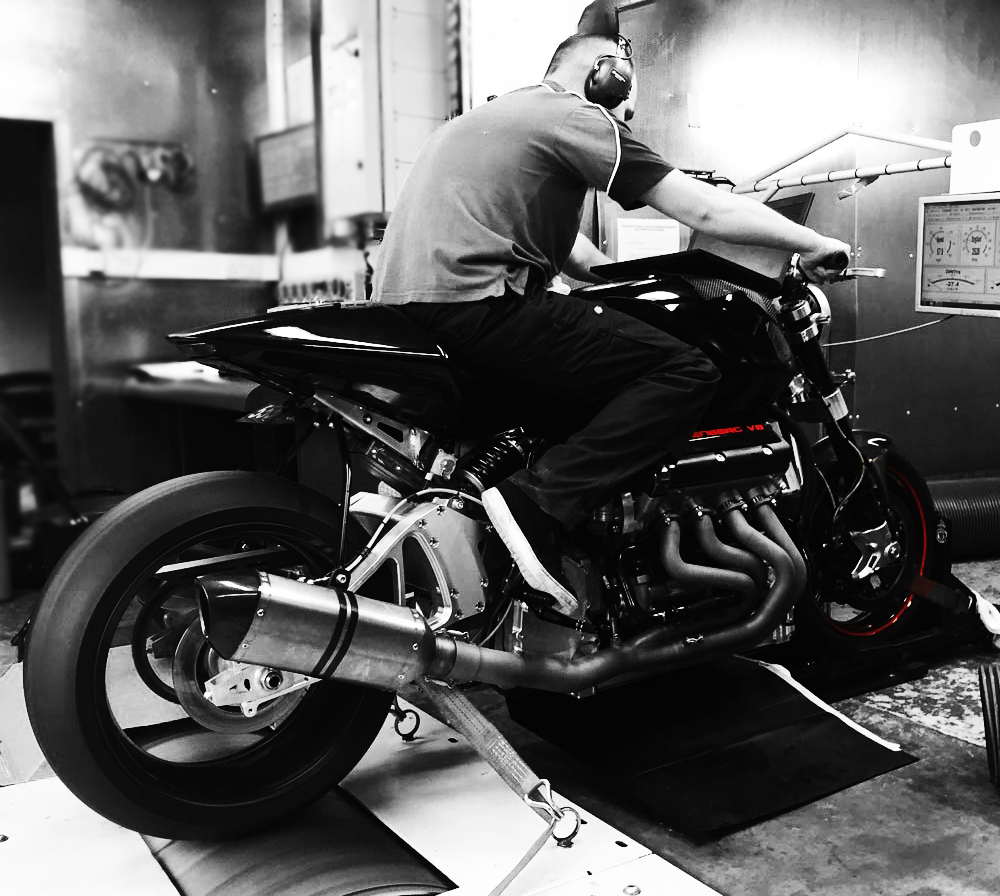 Specification
| | |
| --- | --- |
| Displacement | 3000cc |
| Power (road trim - unleaded) | 400bhp (300 kw) |
| Torque (road) | 261 lb ft (353 Nm) @ 9,500 |
| Dry weight | 280kg |
| Seat height | 80cm |
| Compression | 13:5:1 |
| Rake | 25.5 deg |
| Top Speed (unfaired) | 225 mph + |
| Top Speed (faired, race) | ≤ 250 mph |
Designed from the ground up
There have been several exciting V8 motorbikes made over the years, but they have often being considered a compromised design solution. Big chevy V8 car engines have tons of torque, but are very heavy, large, long and not easy to move around, let alone reverse. Other more compact V8's have been made, but with gearbox and packaging frustrations, with cooling, charging and other issues a constant challenge on such a large aspirated engine. By creating a small, compac V8 engine and gearbox specifically for a motorbike, our engineers can iron out the issues, such as effective but compact radiator cooling, counteracting the gyroscopic engine forces by inline mounting the V8 on the bike (4 exhausts on each side). Most importantly, with a bike length of 1680mm, a length 25mm within other 'muscle bikes', shows how hard the design team have worked to package and design a V8 motorbike, that can deliver a fantastic, intoxicating ride, without being intimidating by length or weight.
Taking power to the next level
The special V8 engine has been designed in conjunction with some of the top engine designers in the UK to our special requirements. The V8 engine only weighs 88kg and will be capable of producing up to 480hp in race spec at 11,000 rpm when running race fuel or E85. In road trim, running 98 unleaded, power will be circa 400hp at rpm levels of around 9,500, with power more suited to road riding.
Not for the timid
Such high levels of power on a road bike, requires enough rubber to deliver the traction needed, which is why a high speed Michelin, 240/45/17 rear tyre puts power to the ground. The bike makes a statement even standing still, with 1500cc sticking out from each engine side (3000cc in total), 4 exhausts on each side (8 in total), two titanium Akrapovic silencers, a solid CNC billet swingarm and carbon fibre front and rear wheels, with a 240mm wide high speed tyre, a carbon fibre alternator cover, radiator cover, tank and tail. The bike shouts exotic and exclusive, before you've even turned the engine on...
Creating a legacy
The EISENBERG V8 bike, was designed as the crowing glory of petrol powered motorbikes. Unlike other concept bikes and cars, which can meet funding issues, shareholder demands and other complications, the EISENBERG V8 bike is fully funded, with no outside investors or bank debt. All design CAD, specifications and any spare parts will be kept and accessible to any registered owners for the future, so the bike can still be maintained, serviced and parts made.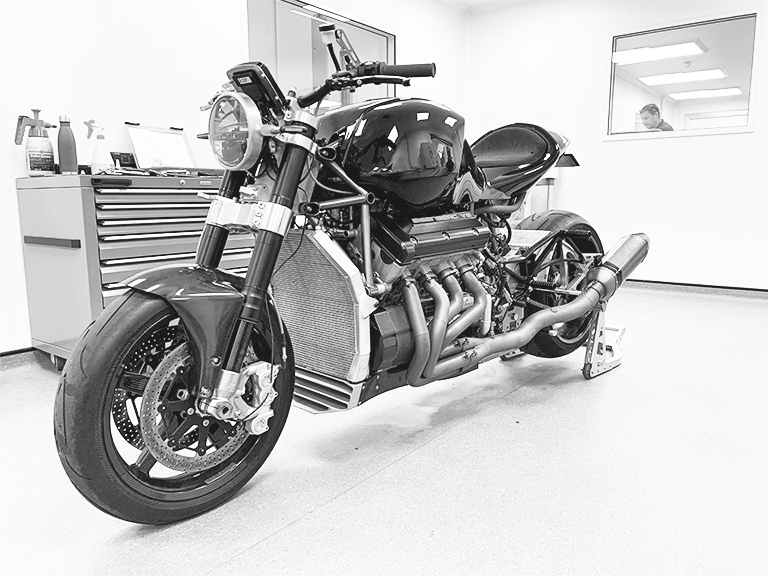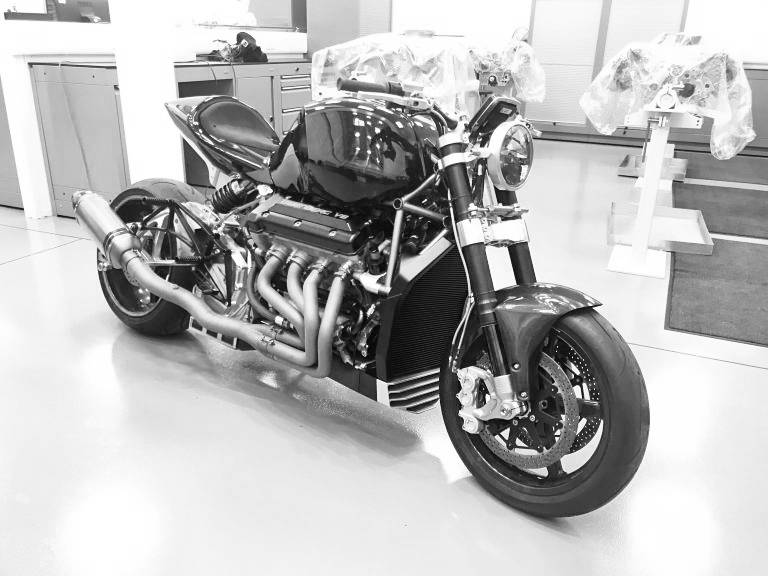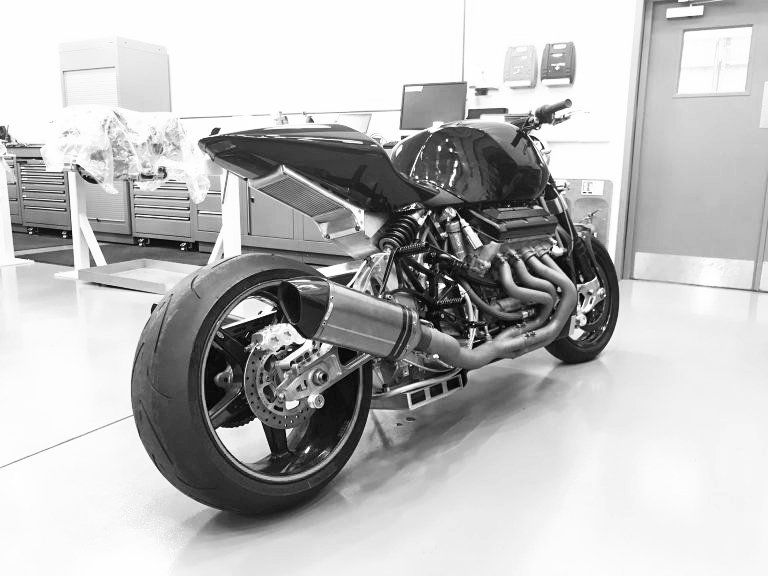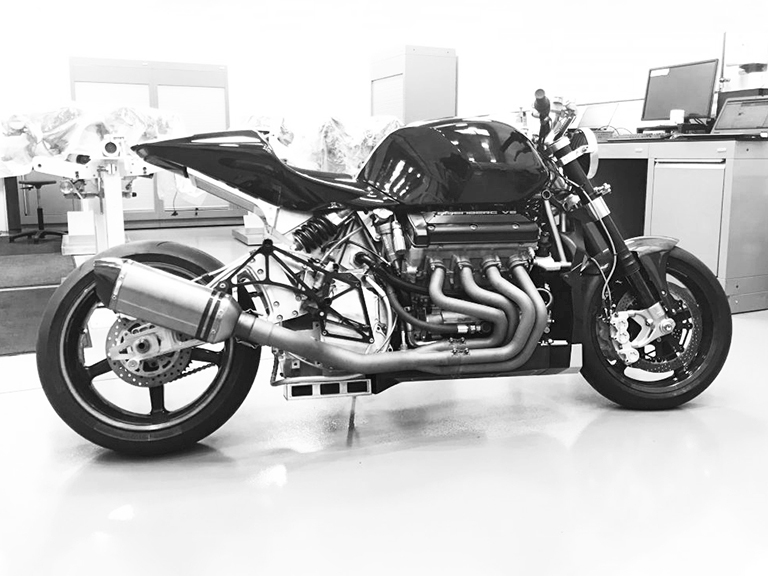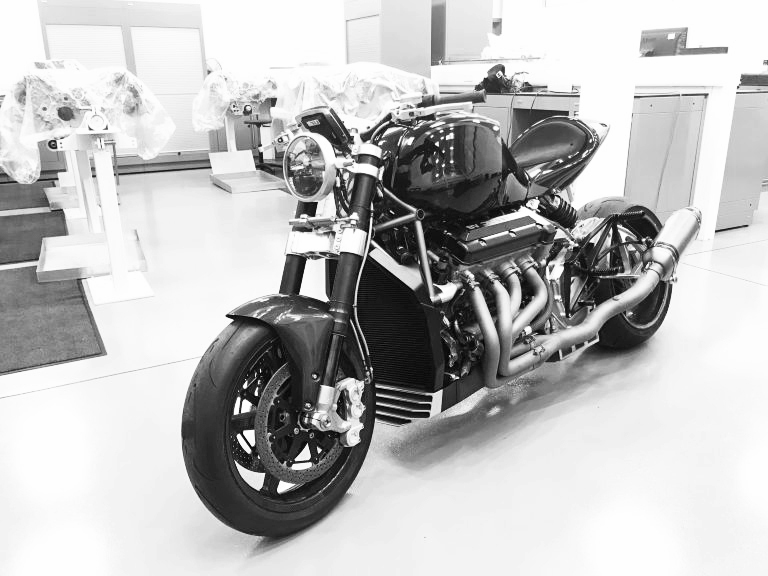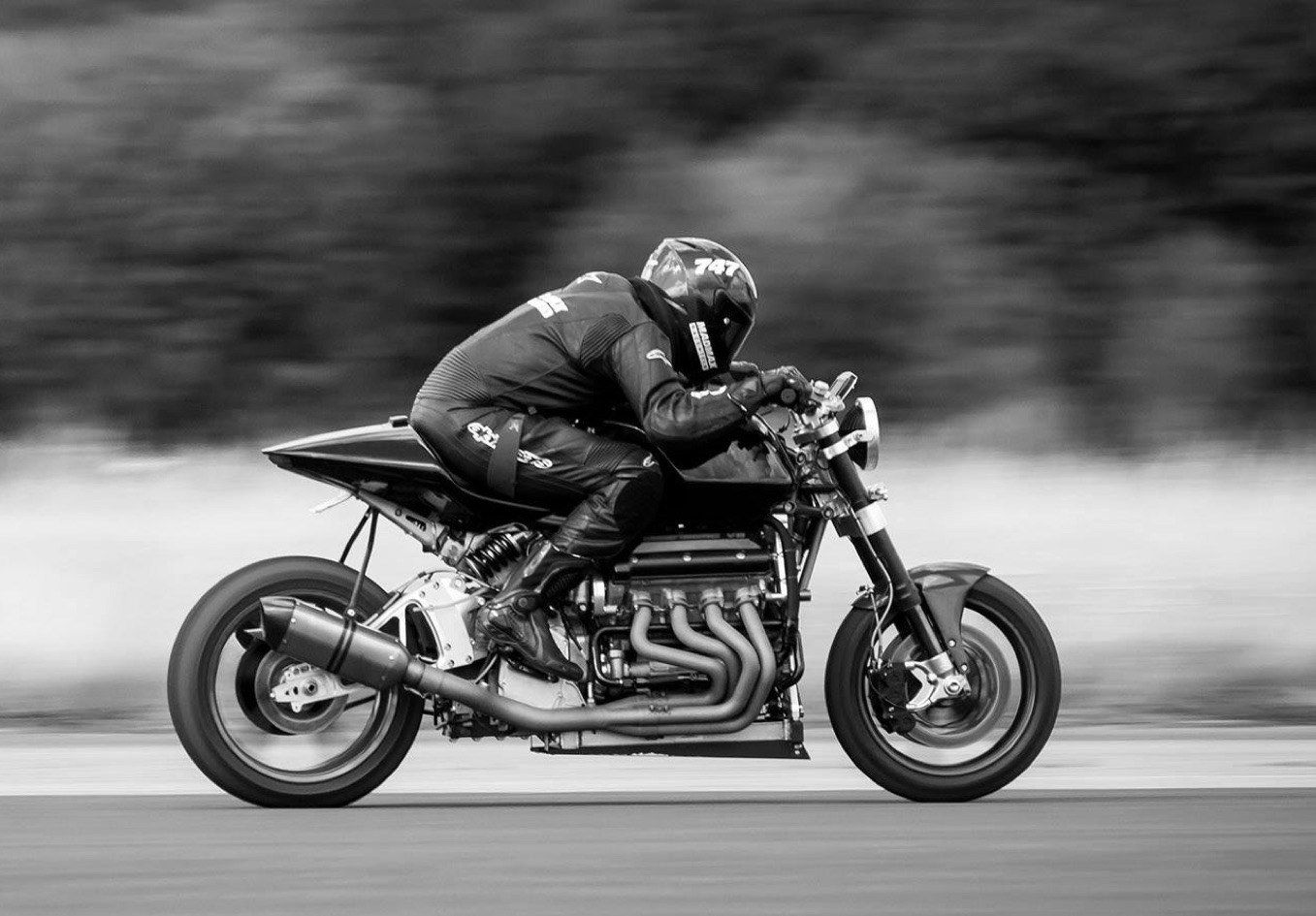 Eisenberg teams up with Prodrive

Partnering with the best
EISENBERG Racing has worked with many leading engine and motorbike design engineers to deliver the world's most powerful and compact V8 motorbike. The combination of EISENBERG racing and Prodrive Engineering will deliver a limited edition production motorbike, with the quality and finish required.

Finest electronics
A motorbike with up to 480hp @ 11,000rpm and 8 exhausts needs the best in ECU to monitor, check and tweak to allow a smoother and enjoyable design. The will be fitted with the M1 series ECU with PDM power modules, full data logger colour TFT screen and internet based access.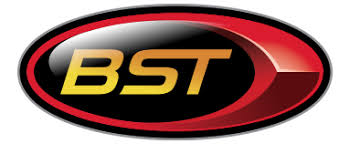 The best shoes
When you attend a big event, you put on your best shows. The EISENBERG V8 is no different, which is why it 'wears', the best carbon fibre wheels in the world, BST made specially to our specification. Super strong and super light for better handling, acceleration and braking