Turbine Bike – A history lesson
The Turbine Motorbike – A history
The adventure all started some years ago when Zef Eisenberg (Maxicorp Founder) visited MTT in Lousiania, USA to discuss the MTT (Y2K) turbine bike. MTT made about 15 turbine bikes from 1998, with the last one being built in 2005.  With MTT then focusing 100% of their time on the big oil industry and turbine powered Fracking machines (natural gas release from underground rock), the minimal profit and hassle from Turbine bikes was of little interest.
After some positive meetings, it was agreed that Zef at Maxicorp (Autosport) in Guernsey would lead the development of a new fully updated Turbine bike incorporating the best equipment that bike technology offered in 2011. With Britain leading the world in terms of bike and automotive technology, Maxicorp had the team and expertise around to develop something special.
The project started off well with a 2005 built turbine bike coming over to the UK to be stripped down and taken apart to see all the areas where it could be improved.  Vinyl wrapped in an amazingly eye catching 3M real Chrome film and sponsored by the watch brand, TAG Heuer. The bike was invited to appear at the Goodwood Festival of Speed 2011 to much attention, and some top speed events to find out its flaws and where improvement was needed.
In 1998, the Y2K (MTT) bike and it's technology was top of its game and became a wall poster bike for its time, but the world of technology, design and engineering moves along at a super fast pace and by 2011, the bike was old fashioned and tired in many ways; featuring heavy slab alloy chrome wheels, harley forks and chrome harley brakes, an often leaking Toyota based Corolla 3 speed auto box (converted to 2 speed manual), basic hand laid carbon tank, fairings, industrial style wiring and bodywork that did not live up to its price.  The turbine bike of 1998 needed a total revamp and update if it was ever going to achieve its former glory.
The magnitude of the task soon became apparent. The donor Toyota Corolla donor gearbox was becoming obsolete and hard to find parts for. It was only designed to cope with 40-70hp in the car, not the 280hp from the C18 Turbine, so the pressure on the clutch plates had to be increased from 40psi to 150psi, causing regular leaking ATF oil, burnt out clutches and was a general pain with oil often dripping onto the rear tyre at speed or the gearbox occasionally over heating or seizing if oil didn't flow properly, as it used bronze bushings and not bearings in some areas of the gearbox. Even though it was two speed, the second speed 1:1 was too tall for the engine to allow a fast launch, as you would expect in a normal 6 speed piston engine motorbike. It therefore used the 1:2.8 ratio of the 1st gear to allow a better acceleration from a standing start. However as the jump from 1:2.8 to 1:1 is quite a leap in terms of ratio, changing gear mid acceleration could only be done very carefully (if at all!) to avoid snapping the gearbox shaft. Yes, it had it's compromises!
The Turbine installed in all the bikes was a Rolls Royce 250-C18, from a Jet Ranger Bell 206. A great engine at the time, but it was discontinued by Rolls Royce, so getting hold of parts and servicing them was nigh impossible through the proper channels, hence the affordable price of second hand ones for installation in the turbine bike. Another concern was that the C18 turbine also lacked a containment ring, this is a protective titanium ring that surrounds the internal hot wheels/blades and preventing them from escaping in the event of failure. The C18's successor, the C20B had the containment ring and thus was a far safer turbine to use. New safety and flight regulations required all C18 & C20B owners to upgrade at the time of servicing to a containment ring turbine. There were many old and tired redundant C18's Turbines on the market, which is why MTT used them. It made the bike affordable, as new C20B's are very expensive.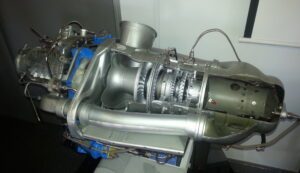 The 250-C18 engine was also known to be a little optimistic in its horsepower claims. Claimed to deliver 318hp, it rarely did 300-310hp even with the best care and blueprint build. At the rear wheel, the best the bike could deliver was about 240hp, when you realised a lot of power was used up within the power sapping heavy planetary gearbox and right angle bevel box. A top speed claim of 250mph was nothing more than that, a 'marketing claim' and the internet was full of hype of all different fantasy speeds. The reality was that even though the bike had claimed to have reached in excess of 200mph, it had never even reached this speed in a certified timing event, such as the Texas Mile, Bonneville, etc… 160mph being its best official 'timed' speed. At the time of its launch the bike was massively fast and powerful, far beyond anything else available, but in today's world of Suzuki Hayabusa's it was soon eclipsed and forgotten as so many automotive 'specials' are.
As the project developed back in Guernsey, so many areas needed to be changed and reworked, that the cost and time of the project grew beyond everyone's estimate. Everyone was becoming a bit disillusioned as budgets climbed.  It was clear that a relaunch of a new turbine bike could be nothing less than perfect with the very best turbine technology, electronics, design and exotic parts, especially for a bike costing circa £150-£200k! Additional concerns of being able to pass increasingly strict EU legislation tests, prevented the bike from ever becoming 'production', being built in large numbers, and recuperating the R&D costs. Due to all of this it was decided that MTT and Maxicorp would part amicably and go their own ways, focusing on what each other do best. Maxicorp… bespoke specials and MTT – Big oil fracking machines.
Having gained significant knowledge and relationships in the UK with Rolls Royce and key suppliers who felt motivated by such an unusual concept as a new turbine bike, the team decided it would be a shame not to throw everything at the project and see what we could achieve without the constraints of budget and partners, as a one of 'special' bike – basically, the goal was to build the most crazy, best built, handling and fastest Turbine bike ever built.
Having now sourced the later updated and more powerful, Rolls Royce C20B (420hp out the box), the first issue we encountered was that the upgraded RR turbine was actually too powerful for an 'every day' road bike and far too powerful for anything but the most experienced motorbikers. The turbine made 4 times the torque of a Hayabusa at idle! and boy did it guzzle fuel. At full power (100% N1), it consumed 280 litres of fuel per hour! Even at idle (54% N1), the bike will use 32 litres of fuel in 30-40mins. Taking this into account, it was clear, we had to completely rebuild the turbine bike from the bottom up, with a focus on the latest technology and safety aspects and take it to various prestigious 'top speed' events to see what it could achieve in real life, as opposed to the drunken bragging of the local pub and internet forums. The birth of the MADMAX turbine bike commenced…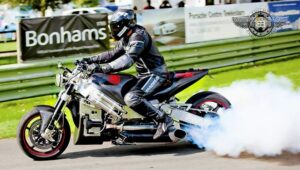 First step was….
To chop off parts of the frame and rebuild certain parts to be stronger with different angles to improve the geometry and strength, due to the far more powerful turbine.
Bin the entire auto/manual Toyota based gearbox, N2 turbine brake, hydraulic system, pipes, solenoid valves and wires and start afresh with a new gearbox concept, saving considerable weight!
A special one off designed CNC single speed gearbox was created using an F1 style multi plate carbon dry clutch that could cope with extreme levels of torque of around 1000lb of torque, along with titanium flywheels to take the extreme heat, as the clutch engages at very high 4000rpm.
A redesigned and strengthened swing arm was made with adjustable pivots to allow different anti-squat percentages to ensure optimum traction under full power.
Titanium spindles, fly wheels and more replaced weaker 6082 alloy versions.
A drop down adjustable rake triple tree was made to cope with the great braking forces and high speed runs.
New 50mm USD Marzocchi race forks from (BSB) British Super bikes, replaced the chrome Harley forks. These had the latest 108mm radial brake brackets, allowing us to use the strongest and most advanced one off 6 pot ISR mono brakes and 320mm discs for considerably better stopping power.
Twin 320mm rear disc and Twin 6 pot calliper was fitted to slow down the turbine and rear wheel from over 200mph.
A re-sculptured and more fitting, very strong, but lightweight 2kg carbon/kevlar tank was made, holding over 30 litres of jet fuel. It had a ballistic under belly for protection in the event of the turbine going wrong.
New more aerodynamic stylish carbon fairings were made for the entire bike using the correct vacuum techniques.
The latest LED lights were used throughout the bike to lower the amp drain on the electric system.
Special order, high cranking, small, but very light 28v volt high powered lithium batteries replaced the old heavy car ones.
All the electrics of the bike and it's 15 year old ECU were ripped out and binned in favour of the most advanced in house Motec ECU solution, with all the software solution being built from scratch and tested in house, providing amazing safety and data logging benefits, offering levels of safety, not even seen in a helicopter.
The bike was covered in an array of F1 style sensors, allowing the ECU to calculate the turbine and the bikes performance at over 100 times a second and most importantly shut down the fuel to the turbine in the event of anything going outside its programmed parameters before the rider even knows about a problem.
Full data logging and HD cameras allowed every run and every millisecond of the turbine and bike to be replayed back, the same as in a black box in a plane, allowing easy fault finding and data logging.
The heavy flywheel style Chrome Harley wheels were replaced with special BST carbon fibre wheels, with a vast reduction in weight. The bike wore special high speed 240/40/18 Continental tyres fitted and a 120/70/17 front tyre fitted, that had been tested to over 300mph.
Many other parts of the bike were completely remade and improved. Too much to list. The only thing remaining was parts of the old alloy frame, which will be replaced going forward.
Whilst we were doing so much, we decided a 'street fighter' version would look superb, allowing the turbine and engineering to be far more visible for those that appreciated the tech side.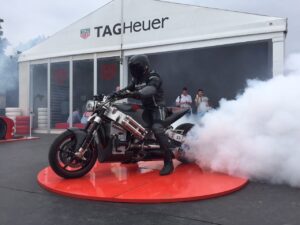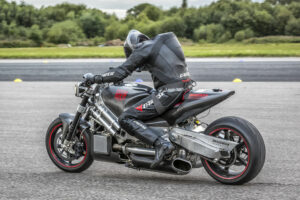 Both the race and street fighter turbine bike have now appeared at many top speed events around the UK, Goodwood festival of speed in 2011, 2013 and 2015 and was sponsored by TAG watches. The bike has been invited to appear on the Rolls Royce H+S stand at the World Helitechshow 2014 in Amsterdam, and been pride of place at many events around the UK, such as Prescott bike show, IOM TT, Ramsey sprint, Coventry Motorfest, ACE cafe and more…
The bike is now officially confirmed as the world's fastest Turbine bike over a standing mile (233.6mph one way), under certified timing conditions (ACU, BRC, UKTA). It has even raced on the sand at the Iconic Pendine beach, reaching 141mph before the Turbine ingested too much sand! Maxicorp has no plans to build a production version of this bike due to EU regulations. We believe the bike is too powerful for most riders and far in excess of what you need. However for those people who are truly crazy and want nothing but the best and most powerful of motorbikes, we may be tempted to build one for those that can demonstrate they have sufficient money and expertise in handling such a bike for special occasions or ideally for those that want to add possibly the most extreme bike ever made to their current collection of automotive exotica. You'll need a large cheque though, the build cost of one of these bikes would be around £350,000, subject to spec.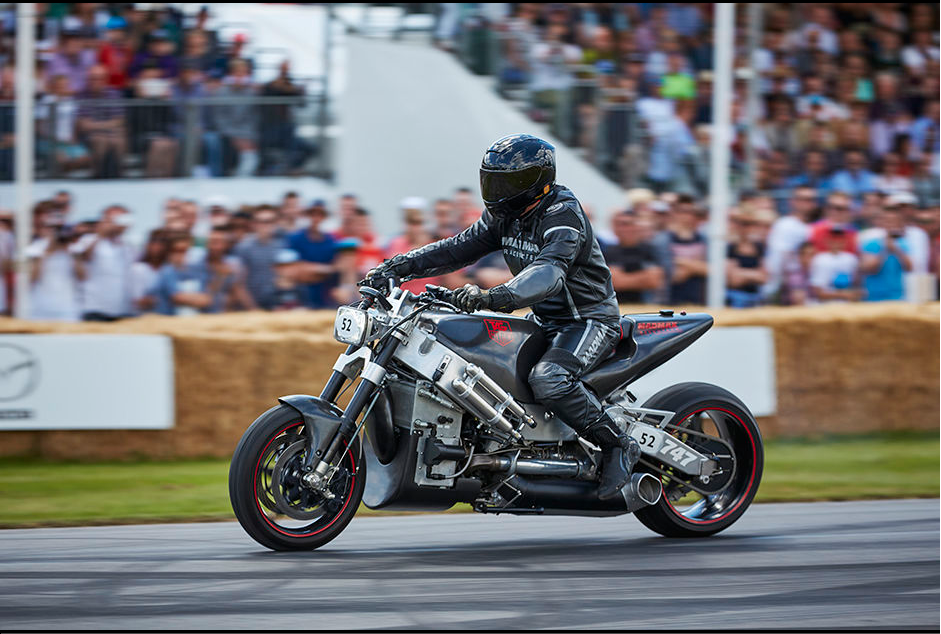 For those special enough to already own an old MTT Y2K motorbike, we are to fully service and convert any old Y2K Turbine bike to whatever your budget allows, whether it is a front end change or a full upgrade to a new C20B containment ring Turbine. Our team are qualified and trained Rolls Royce 250 turbine technicians and can resolve any turbine issues and repair them to full OEM service centre specifications.