The MADMAX Turbine Street-fighter
NEW TURBINE WORLD RECORDS – 234.01 mph
Saturday 16th May started very well, with the very first run of the day seeing our August 2014 top speed raised from 224.9mph to 225.6mph. This was 'right out of the box' with no other testing, other than our dyno work in Guernsey. After that the speeds started to get hard, real hard with strong cross wind gusts, and every 1mph increase near impossible, due to the intense wind resistance at that speed with no fairing at all. The physical pain in holding on, was intense with the 'upright bars' and arms out position acting like a parachute. By the end of the day, the 228mph top speed goal had still alluded us. By 5pm, it was time for food and thought.
The team, spent the whole evening looking at the motorbike ECU datalogger to see where we could make improvements. We worked out we needed another 100hp to gain just another 6-7mph, as the drag on the bike is about 0.9 Cd which is about 3 times that of a sports fairing bike like a Hayabusa, which has a drag of around 0.35 Cd. We decided we would go all out and increase the fuel flow on the turbine to maximum and increase the water-meth cooling to max flow also. The safety parameters were raised to the limit (auto-cut out on the turbine) to ensure we had maximum power, with safety still.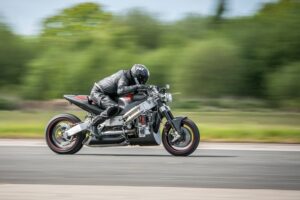 Sunday started with strong winds and slight rain, but we were not perturbed, as the bike was now set up perfectly for the conditions. The speeds started to climb frustratingly slowly. I explained to the team, that we cannot go back to Guernsey without a top speed of 228mph +, as that is what I have set the challenge for with the Autism 365 charity and promised all the generous people that have sponsored me. So we decided it's going to be an all or nothing next run… I literally held on with every ounce of strength and held that throttle on full, to push out an amazing new top speed of 231.5mph with an upright Streetfighter bike, with no fairing and MX style bars!!
I can't tell you how relieved we all felt. We now felt confident. The bike was handling superb, like a turbine powered bullet train. The data logger and torque sensors were showing levels torque level of 480lbft at the turbine, regular spikes of 1100lbft at the rear tyre and 542hp, which interestingly is over 100hp more than last August's Top speed event, where we set a top speed of 224.9mph.
Everything started to fall into line, and by the end of
Sunday, we walked away with:
World's Fastest 'Streetfighter' @ 231.5mph (one way)
World's fastest Turbine bike (official ACU 2 way average 1 mile – 225.759mph)
Britain's fastest 'naked' bike (no fairing or aerodynamic aid at all – open bike) – official ACU 2 way average 1 mile – 225.759mph
We then decided to change the 'upright' bars to 'clips on' to get out of the wind more. This allowed us to achieve a best ever (world) one way top speed for a Turbine bike @ 234.01 mph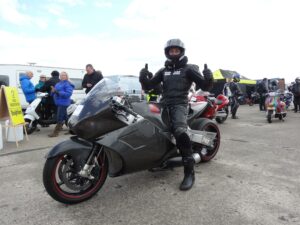 In the process also setting a new World Turbine bike record for flying 1/4 mile of 3.910 seconds!
and this is all with a road legal motorbike (lights, indicators, reg plate, etc..) that consumes normal Diesel and road legal tyres, no slicks or tyre warmers are used!
A special thanks must go to my amazing team,  who without their assistance and help, it would not be possible to achieve these speeds, such is the importance on quality of engineering, safety and attention to detail – at such crazy speeds. Last, but not least my sponsors TAG Heurer, who sponsor the bike and share the same passion in engineering excellence.
The MADMAX® Race Team uses official RR spare parts supplied by the world renowned H+S service centre in Portsmouth. The Maxicorp Autosports team are RR 250 C-20B engine trained under the H+S training programme.