Supercharged MADMAX 'Green 'ICE' monster'
Arsunda, Sweden, Ice Speed week 2019
Friday @ Ice Speed week in Arsunda. Every type of crazy vehicle is here, from turbo motorbikes, and 1000hp race cars to pulse jet, rocket sleds. Zef took the 'Green Monster' MADMAX Race bike out at midday. On the very first run, the bumps and tyre flex from the ice, caused metal fatigue, ripping apart the stainless steel inner carcass, this caused the front and rear tyre to puncture. As this was Zef's first ever ice run, Zef thought, he can't finish his first run with a poor speed, so he just nailed the bike over the finish line at 256kmh (160mph) with two flat tyres.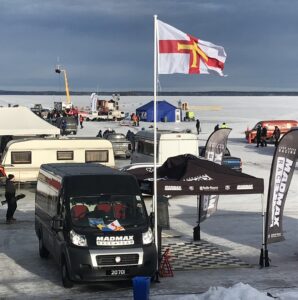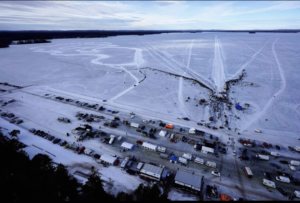 It was quite scary with the bike becoming very unstable. John Ellwood was a real star, finding us a replacement rear tyre for us to use, and repairing the front also. Later, we went out again for our second run, but at 168kmh (105mph), the front tyre burst, causing rapid deceleration with a big tank slapper (violent left to right steering wobble). Zef controlled it well, and rode the bike back to the paddocks. Another hero called Kristian, lent us a new front tyre, so we mounted that, to allow us to race Saturday morning. Cross fingers the tyres stay in good health, so we can get a better top speed. My troubles seem common, with many of the fastest riders also suffering tyre issues, so much so there is a professional tyre change stand, that is always busy.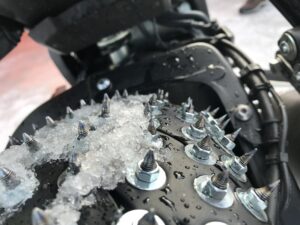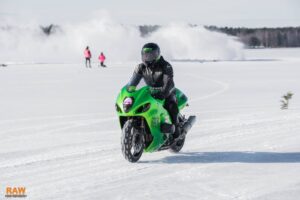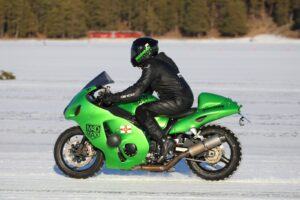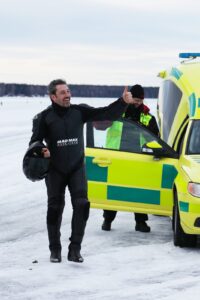 End of Saturday…  Ice Speed Week in Sweden finished, we am pleased to announce, Zef and the MADMAX "Green Monster' bike is still in one piece – Just! Racing on ice is not easy or for the faint of heart. Approaching 300 kmh + is difficult, due to tyre strength and stability, that we found out big time. On Friday, on his very first ice run, Zef reached a crazy 256kmh (160mph) with two flat tyres, as they both punctured at high speed, due to the Stainless Steel internal carcus snapping in the tyre, puncturing the inner tube. On run 2, the front tyre punctured again, due to another metal band snapping, causing an extreme tank slapper at 180kmh (113mph). After being given a new front tyre (with no steel banding), Zef approached 230kmh (143mph) when the bike went into a big wobble, as all the front brakes hoses were ripped off, due to the tyre expanding so much, the spikes clipped the brake hoses. After getting one brake working, Zef went out again, this time with Stainless steel protective banding on the outside of the front tyre to stop it growing. At 283kmh (176mph) with just 70% throttle, the steel banding around the front tyre snapped and sliced the radiator open, causing the engine to rapidly over heat and cause coolant to spray everywhere!
The bike was performing in the cold weather really well and there was an easy 300kmh + awaiting, but without strong enough tyres or a working radiator, it was game over. Kristian was kind enough to lend me his 1000cc ice race bike. On the first run with a 260kmh on the clock, the rear tyre exploded, hitting Zef in the back with tyre, bolts and shrapnel. Zef managed to control the bike well and brought it to a stop, without coming off or dropping the bike. Then the emergency vehicles and ambulance arrived, etc… Fortunately due to a very strong Dainese back protector Zef was uninjured and was dropped off back to the race start to everyone's relief and applause.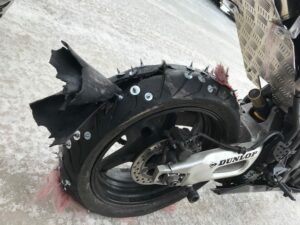 So after all the crazy shit, Zef ended up with the 2nd fastest top bike speed at 283kmh, before the cracked radiator took the bike out of action. It's been the craziest, maddest race event ever. I love the people, they are super friendly. Next year team MADMAX will be back with far more knowledge, insight and bullet proof tyres and radiator, so we can hit the big 300 kmh speeds and beyond…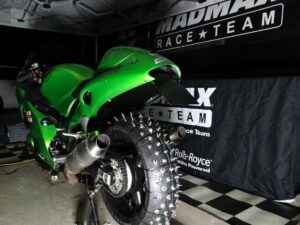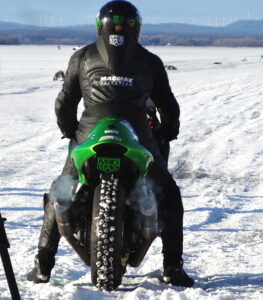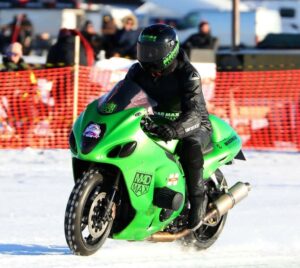 See you all at Ice Speed Week 2020