'Fastest ever flying mile record' at Pendine sands – April 2019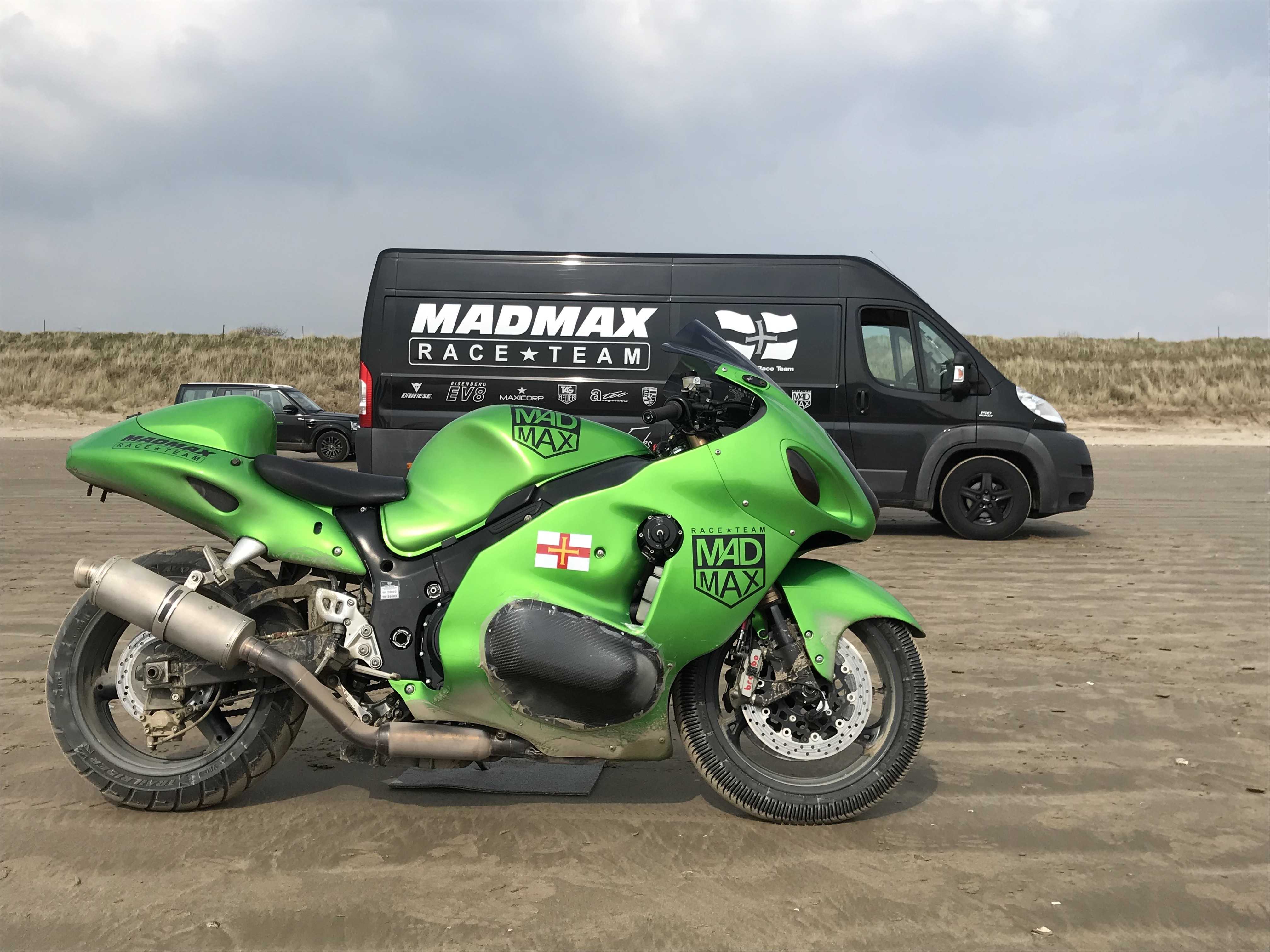 'Fastest ever flying mile record' at Pendine sands achieved by Zef Eisenberg.
At 2pm on 6th April, after just his first runs in both direction… Zef Eisenberg, set the all out flying mile record at Pendine on his MADMAX 'Green Monster' Motorbike. The average flying mile speed Zef achieved was 182.40mph v Donald Campbells 174mph in 1927 in the Iconic Bluebird.
No one has ever gone faster in the flying mile, bike or car.
It was achieved on the MADMAX 400hp surcharged Hayabusa. No practise runs were done, the record was achieved on the first first pair of runs, with a rear tyre that started to break apart due to 240mph wheel spin for over a mile.
On the third run, the motorbike engine head cracked, due to prolonged, high rpm wheel spin on the sand (Over 2 miles), this sprayed Zef and his helmet visor with black engine oil, making him unable to see, at 195mph approaching the finish line. Fortunately he was able to remember where he was going and stop the bike without incidence. With critical engine damage, this prevented his ability to continue racing and increase the speeds to his desired goal of 200mph in the flying mile.
Zef Eisenberg still holds the fastest one way wheel powered vehicle (bike or car) at Pendine at 201.5mph, which is also the 'fastest motorbike on sand' world record.
Considerable knowledge was learned on this 4 mile + course. To avoid engine issues with the MADMAX 1200hp Porsche Sand Racer, further work will be done to allow the car to come back to Pendine on Speed Week 20/21st May for an attempt on the 'all out' flying mile record and speed.
Note: A flying mile is the average speed (not trap speed) over a mile, with a mile + run up in both directions to avoid any help from tail winds. It is the measurement used for all big speed records at Bonneville, as measured by MSA, FIM, FIA. 2 way average speeds will always be lower than one way trap speeds.